Müll
Dada Müll (1969-1974)
DADA MÜLL was the signature tune of Stuttgart's MÜLL (engl.: "trash"), a progressive rock band playing mainly in Southern Germany and Switzerland in the years 1969-74. After their break up the band almost got lost in the depth of decades. There had been no record release and the band members Eckardt Dietel (guit.), Klaus-Peter Graßnick (bass) and Thomas Wahl (dr.) continued their musical careers with other bands.
Back in those days they only made some live recordings in different venues and in their rehearsal room, which used to be an old ww2 bunker. These recordings were mostly taped with an Uher Report mono tape recorder.
After more than 40 years these recordings have now returned from oblivion. About 6 hours of early progressive rock from Germany ready to be digitalised and mastered. As a result this CD presents 13 raw and authentic tracks - the first official MÜLL release ever.
MÜLL played rock music, influenced by bands like Black Sabbath, Ten Years After, Led Zeppelin or Jimi Hendrix. The tracks are mostly instrumental, some more jazzy, some abstract, often improvised and sometimes repetitiv. A political background (e.g. ATOMMÜLL) was obligatory as well as the stoned out overlength of some tracks.
MÜLL are a piece of Germany's musical history.
Cover art by Uwe Büchele.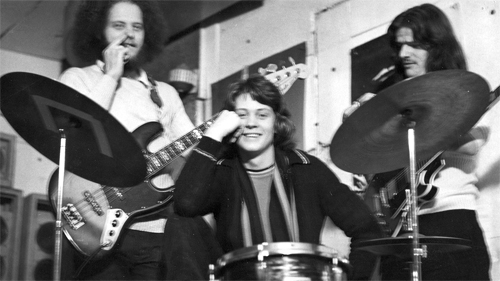 BEISPIELE / SAMPLES