Peter Thomas Sound Orchester
Winnetou and Old Firehand
Released back in 1966, Winnetou and Old Firehand aka. Thunder at the Border put an end to the Karl May film adaptions by Horst Wendlandt's Rialto Film company. Alfred Vohrer (Perrak…), a "genius" according to legendary director Quentin Tarantino, brought the film away from comfy German Western towards a more violent form of Spaghetti Western. Critics and fans alike shared a rather ambivalent opinion at the time, with verdicts ranging from "explosive" to "the lowest point of the series".

The soundtrack went down an altogether different path, too: Peter Thomas replaced Martin Böttcher in his role as "Winnetou composer" although it should remain the only Karl May movie with music by Peter Thomas. And no wonder: He was in high demand at the time, scoring Edgar Wallace thrillers as well as Jerry Cotton action flicks. It was not until 1980 that he returned to the franchise with his music to the TV series Mein Freund Winnetou.

The result was a soundtrack that can be seen as a missing link between Böttcher's typical Karl May strings and the decidedly more experimental music of Italo Western from the likes of Ennio Morricone.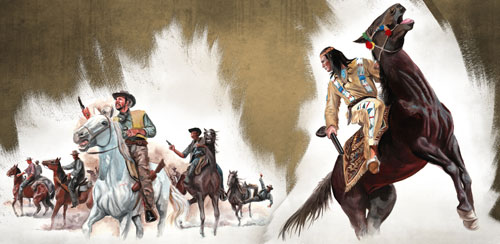 Gatefold inside
This soundtrack has never before been released on vinyl. All the 42 (!) tracks, of course, were remastered. The CD version even boasts three previously unreleased tracks that have been found in the vaults of the Peter Thomas estate as well as a bonus track with the composer himself on piano where he is presenting his first themes and ideas to the film's producer (recorded 1966 at Bavaria Tonstudios in Munich).

After Peter Thomas Sound Orchester – Bruce Lee: The Big Boss (CD/LP ASM 048, Allscore 2020), this release marks the second Vinyl/CD instalment in a new Allscore series exclusively dedicated to legendary composer Peter Thomas who died on May 17th, 2020 in Lugano.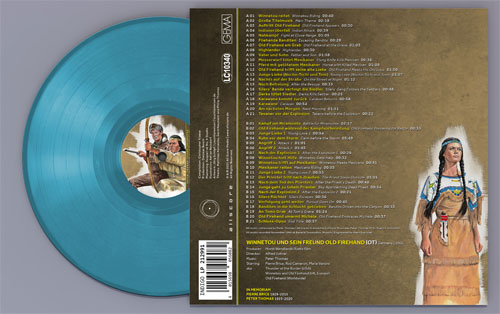 Cover Rückseite

Illustrations on the Gatefold cover as well as the CD digipack are once again courtesy of ingenious Adrian Keindorf. The 180g vinyl is pressed in black and, limited to 300, in transparent turquoise.