Mondo Sangue
Rosso come la notte
Barbara, a taxidermist from Milan, travels to a tranquil village in the Black Forest area on a devoted museum assignment. Soon after her arrival she vanishes without a trace. Her sister sets out to find her and discovers not only a mysterious series of ill-defined murders, but also a dark secret revolving around her own persona…

Hell is closer that you think. With ROSSO COME LA NOTTE, MONDO SANGUE dare to approach the epitome of all Italian genres: GIALLO. With intense colouring, paranoid imagery and a phantasmagoric undertow, it not only started a whole new chapter of cinema history in the mid-sixties; but especially with its musical idiosyncrasies, GIALLO became the very essence of European cinema, making Italy the birthplace of the contemporary Horror genre. From track one, MONDO SANGUE enthral with a nightmarish, psychedelic aura, slowly building up a fascinating yet uncanny psycho drama at the gruesome end of which the protagonist is not the only one losing her mind…

Brimming with references to the Italian genre film, the band evokes a disturbing balance between cinematic instrumentals and catchy songs. And while ROSSO COME LA NOTTE will most certainly thrill and delight genre pros and cineastes, it's also working as both an imaginary soundtrack and an intense sonic journey akin to legendary concept albums of the past.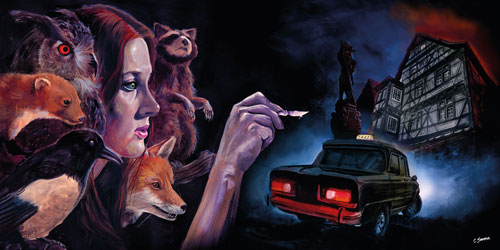 Gatefold inside
On their fourth record, MONDO SANGUE give testimony to their burning passion for music and cinema once more. And it tells: Genre connaisseur Bela B ("To Hell") once again guests on the album, while Italy expert Eric Pfeil ("Taxi Auriga") is making his debut appearance in the MONDO SANGUE universe. Pressed on 180g vinyl, packed in a swell gatefold cover, limited to 666 and hand-numbered, each album comes with a film poster as well as a download code. A number of 100 LPs is sewed in screen-printed butcher's paper, a special edition. Yes, that's a thing!

About MONDO SANGUE
Since 2015, Stuttgart-based duo MONDO SANGUE (Christian Bluthardt und Yvy Pop) is producing music inspired by Italian genre films of the sixties and seventies, carrying this unique legacy into the present. After a trip to the jungle (L'Isola dei Dannai, 2016, a soundtrack to a fictitious cannibal movie), a wild ride through spaghetti western (No Place for a Man – Il Villaggio delle Donne, 2018) and a journey into space with their sci-fi opera VEGA-5 (Avventure nel Cosmo) in 2020, the most iconic and legendary Italo genre GIALLO finally gets its MONDO SANGUE treatment: ROSSO COME LA NOTTE.
ROSSO COME LA NOTTE has been produced with the great support of
the German Butcher's Museum in Böblingen.