Peter Thomas Sound Orchester
Jerry Cotton - FBI's top man / Music from the original series 1965-1969
Jerry Cotton returns!
More than 40 years after the last feature of the "G-man" series had been filmed, in March 2010 Jerry Cotton will once again explode across German theatre screens! In response to this exciting cinematic revival the long unavailable music of the original series has been gloriously resurrected for a brand new compilation.
Undoubtedly Peter Thomas' soundtracks to all eight movies, composed between 1965 and 1969, are the highlight of the series. Thomas re-configured American jazz the way the filmmakers re-configured New York City, mixing it up with sounds that appropriately call to mind the military, the lounge, the chase (of course) and even the circus. Thomas goes for the jazz jugular and spices up the proceedings with his own brand of ephemera: gunshots, screams, scat singing and wild improvisation that must have made participating musicians happy as hell.

Crime Jazz at its best!
On this premiere CD you will find the remastered musical highlights of the series, six previously unreleased tracks, plus two bonus titles that prior-to had only been available on a very rare vinyl LP.
The 28 tracks come with a 24-page booklet, including detailed liner notes by Douglas Payne, presented in both English and German language, a filmography, and numerous full sized color film stills.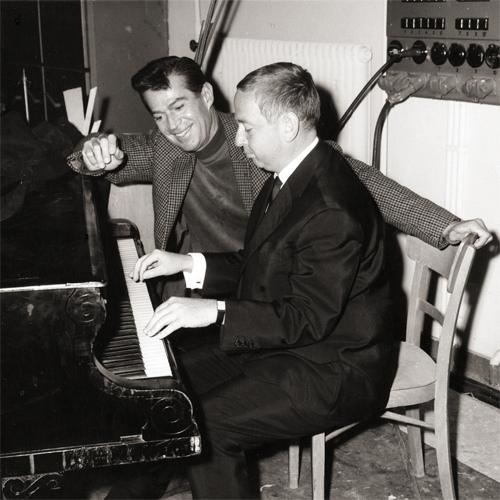 "Jerry Cotton" George Nader and Peter Thomas.
(Foto courtesy of Peter Thomas)
BEISPIELE / SAMPLES
PRESSE / PRESS
Kris Spencer, Score, Baby! [04/10]: "Thomas' Cotton soundtracks [...] are completely unique, bizarre, amusing and infectiously hummable."
Darren Allison, Cinema Retro Magazine [03/10]: "For fans of Cotton and the crime Jazz genre in general, there's plenty of Bisssh, Bosssh and Bang to keep you dodging the bullets for many a play! Groovy baby!"

Douglas E. Winter, Video Watchdog [#157, 07/10]: "... a compilation of prime cues from the original series... for any Jerry Cotton or Peter Thomas fan."

Jeff Hall, Screen Sounds [04/10]: "...enjoy the '60s jazz-pop scores of the genre, you'll find plenty to admire in these scores, and the time passes fleetingly in their company."

R. D. Larson's Soundtrax [06/10]: "...cool jazz soundtrack music from German maestro Peter Thomas... [he] is to Cotton what Barry is to Bond."