Franco De Gemini
The man with the harmonica
This is the premiere cd compilation paying tribute to the unique harmonica soloist Franco De Gemini. Featuring his top hit "The man with the harmonica", the main theme of Morricone's score for "Once upon a time in the west", Sergio Leone's Spaghetti Western masterpiece. Furthermore you can find 15 tracks he recorded between 1967 and 1978, reaching from Italo-Western songs to easy listening to disco to jazz. It's a mix of soundtrack music, rare library tracks and pop instrumentals. Sometimes dramatic, sometimes groovy.
Several titles were composed by Maestro De Gemini himself (other composers are Morricone, Alessandroni, Nicolai, a.o.). Of course the mainthread running through this cd is the solo harmonica sound of the later founder of Italian cult soundtrack label "Beat Records". But you will also find one title without this instrument: "Cheops and Nefertiti" shows the talents of De Gemini as a composer. (here in an extra-long version which has been dug out in the Beat Records archives in Rome in 2005). The only vocal title on this compilation brings us a reunion with singer Dean Reed, who made some kind of an Italo-Western career in the late 60s before he became the "American rebel of the GDR". Like the original version is the prelude to this cd, an extraordinary "disco version" of "L´uomo Dell´Armonica" brings up the rear.
Half of the titles have never been released on cd before (even more, if bootlegs would have been cut out…). The booklet comes with extensive linernotes and many pictures.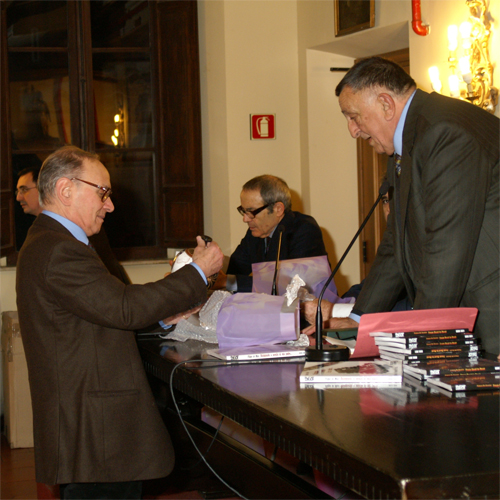 Ennio Morricone (l.) and Franco De Gemini (r.) celebrating 40 years of Beat Records (2006).
(photo: Giuseppe Ziliotto)
BEISPIELE / SAMPLES
PRESSE / PRESS
Filmscore Monthly [2006]: "Nice compilation with an excellent illustrated and informative booklet. CD includes many previously unreleased tracks from various composers that Franco worked with. Highly recommended."
Cinema Retro [11/08]: "You have to applaud All Score Media for having the foresight and good sense in releasing such a fitting tribute, Excellent stuff!"

scorebaby.com [Oct. 06]: "This All Score Media release is a perfect introduction to "the man with the harmonica"."
Music from the Movies [Oct. 06]: "...a fitting tribute to Franco De Gemini ... with many of his most charismatic tracks... For those that love the sounds of the 1970s ... this album is a must. The music is captivating and vibrant, with each track representing a gem."
screensounds.com [Sept. 06]: "In fact, all the selections have something to offer, with De Gemini's mastery of his instrument evident,..."
dustygroove.com [Oct. 06]: "A brilliant overview of one of the most enigmatic soundtrack musicians ever - Franco De Gemini. A real mindblower!"