Mondo Sangue
VEGA-5 (Avventure nel Cosmo)
It is the year 2022 …
… the crew of VEGA-5 is bound for new adventures in outer space: Commander Laura B. Lee, scientist Dr. Cassandra Mars, daredevil explorer Ted Rizzo, android VHX2000 and a rather shabby space cowboy going by the name Dirk Dawson. And mind you, there's not only black holes, giant insectoids and supernovas at the edge of the galaxy this motley crew should worry about…

VEGA-5 (Avventure nel Cosmo) sees MONDO SANGUE take their listeners into deep space. A loving tribute to iconic science-fiction TV shows and movies, their musical journey is thus beginning in late-sixties psychedelia, strolling through seventies' lush sounds and concluding it right at the synthetic brink of the eighties. Studded with charming nods to European, especially Italian, genre cinema, the story of VEGA-5 yet evokes something entirely new and genuine.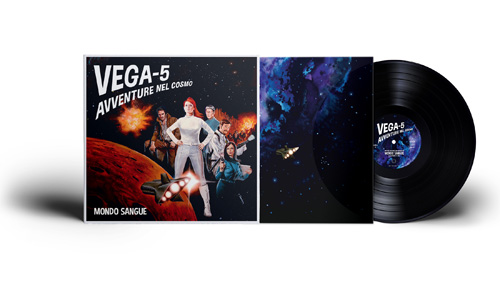 On their third record, marvellously illustrated by Adrian Keindorf, MONDO SANGUE once more display their passion for music and cinema. Again, genre aficionado Bela B of Die Ärzte fame is part of this adventure, smugly crooning "Space Cowboy – Lo Straniero del Pianeta X" alongside duet partner Yvy Pop. Pressed on 180 g vinyl LP, strictly limited to 666 items and hand-numbered, each album is coming with a lenticular print and download code. Above all that, enclosed with the first 100 LP's is a real (!) meteor splinter: a salute from outer space.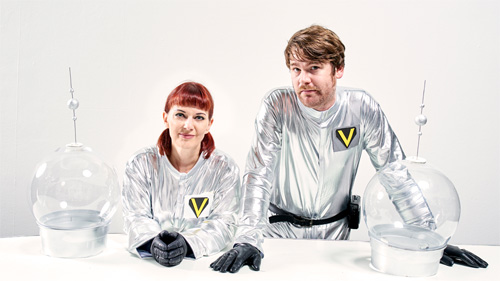 Mondo Sangue (Yvy Pop and Christian Bluthardt)
(Photo: Ronny Schönebaum)


About MONDO SANGUE
Since 2015, Stuttgart based duo MONDO SANGUE (Christian Bluthardt and Ivy Pop) is producing music inspired by the magical Italian cinema of the sixties and seventies, carefully transferring its distinct sonic world into the here and now. After a trip into the jungle with their soundtrack to a fictitious cannibal movie called L'Isola dei Dannati in 2016 and a wild ride though Spaghetti Western (No Place for a Man – Il Villaggio delle Donne in 2018), 2020 marks the release of their third record. Science-Fiction on vinyl: VEGA-5 (Avventure nel Cosmo) is ready for take off.
BEISPIELE / SAMPLES